1 hour to Untangled Clarity
Are you mulling over a tricky business decision? 
If you're a service-based business owner and you're:
Wondering whether your idea for a new offer will sell, or whether it's another one of those 'genius' ideas that ends up going nowhere.
Trying to increase your prices but you're not sure how much by and, quite frankly, you're nervous.
Or perhaps you're about to embark on a pivot but you're getting cold feet.
You're in the right place!
In this one hour Zoom call, we'll dig into whatever sticky situation you need to unravel.
You'll leave the call feeling confident, calm and the confusion will have lifted.
Let's knock that irksome conundrum on the head. Leave the call feeling confident and certain of what you need to do next.
Book an Untangling call now.

The Untangling Call is for you if:
You're a personal brand business who's been operating for 2 or more years.
You know your way around social media and have a website.
You have something very specific that you're struggling to resolve on your own.
The Untangling Call isn't for you if:
You want to do a bigger piece of work e.g. the messaging for a whole new service.
You just want me to agree with everything you say. 
You haven't already got a reasonably strong brand.
How does it work
This isn't just a one hour wham bam thank you ma'am, oh no. 
I want to make sure we make the most out of our time together so:
Step 1: Sign up and pay using this link.
Step 2: Fill out the questions on screen in the booking app. 
Step 3: Pick a day and time that suits you in my calendar- this will trigger an email to confirm all details including the Zoom link that we'll be using on the day.
Step 4: You'll get a reminder of our call the day before along with the Zoom link.
Step 5: I'll read through your answers, have a look at all the links you've sent me and get a sense of where you're at and what I need to ask you to move you forwards and get you untangled!
Step 6: Turn up on time and we'll get cracking. We can record the call if you want, so you don't feel like you have to scribble notes.
Step 7: Clarity heaven!
My Untangling clients always look so relieved and happy by the end of the call! Like a weight's been taken off their shoulders. If you want to feel like that then go ahead and book a call with me today.
The cost: £295
More about me
I have a business degree and a post graduate diploma from the Chartered Institute of Marketing. Most of my 20 year career was spent working for big brands like EE, Orange and Europcar. 
I loved the hustle and bustle of those big marketing departments but I find it so much more rewarding working with small businesses. Showing you how best-practice marketing principles can apply to you, no matter what size your business is.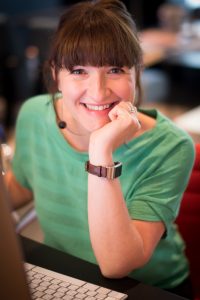 I haven't been running my business for 2 years yet, can I still book a call?
I get better results with people who are more established. When you're earlier on in your business, you're in trial phase. I'd hate for you to spend your money, make a decision, only to go back on that decision a couple of months later. This is much more likely to happen if you haven't been running your business very long. Better to speak to someone who specialises in your stage of business.
I've been running my business 10+ years, can you still help me?
In a word, yes. I have oodles of experience working with huge multinationals. I can handle yours. ; )
Why is your call so expensive?
Yep, it does seem expensive if you compare it to the £99 power hours out there, but what I'm offering isn't a power hour, it's an hour of business and marketing consultancy. This includes preparation on my part. A true 'power hour' is a device to monetise people who just want to pick your brains for an hour. It doesn't usually come with any prep. And besides, I do my best work when I'm paid more.  : )
Do I need to do any prep before the call?
Nope! Other than fill out the questions in the booking app in as much detail as you can. One of my recent Untangling clients wrote me a 1,500 word email; it was very useful! But don't feel you have to do this. All I need for us to make the most of our call is to know what issue you want to get clarity on. 
Can you record the call and send it to me?
Yes, of course. What I usually do is give you permission to record it onto your computer, so there's no issue with GDPR on my end. I won't have a recording. 
Can I speak to you first before booking the Untangling call?
No. If you're not already convinced that I'm the person to help you, then you're not ready to book this call. Check out all my fabulous blogs or get to know me on LinkedIn first.