What is my Virtual Head of Marketing programme all about?
Heard me mention my Virtual Head of Marketing programme and wondered 'what the blinking nora is that then, Janine?'
Is it a robot with artificial intelligence who can automate your weekly newsletters and reply to your LinkedIn comments?
Is it a disembodied holographic head that you can ask any questions and be told the unquestionable truths of the (marketing) universe?
This might surprise you…it's neither of those things!
The Virtual Head of Marketing programme is a 6 month programme where we work together one to one to iron out your long term marketing strategy.
And here's the key bit: To fit in with YOUR goals and YOUR life.
There are three things I want to give you:
Absolute clarity on what you want to achieve with your business.
A plan that will get you there in the quickest and most efficient way possible. Efficient with your time, your energy and your money.
Ways to mitigate risk when you're trying out something new.
In short, you'll be confident that what you're doing are the right activities and that you're running your business in the way that makes the most of your money, time and energy. 
Whether you want to outsource marketing tasks or whether you're doing it all yourself, working with me for 6 months will develop the marketing instincts you need to secure future business growth.
Mmmm, I can almost see that marketing genius emanating from your head like a halo!
How does it work?
This is the high level process I take my Virtual Head of Marketing clients through:
1. A goals review
The first step is always to check on your goals. Long term and short term. 
We're not trying to lash you to these objectives so you feel stifled. What this goal setting will do is to set the course of your ship. Adjustments along the way are encouraged! One of the wonderful things about running a small business is your ability to be nimble and take advantage of opportunities when they arise, but you need to know the direction you're heading in first.
2. Gap analysis
With all my clients, I have a simple table in my head. I'm checking for any areas that need work.
This is what it looks like: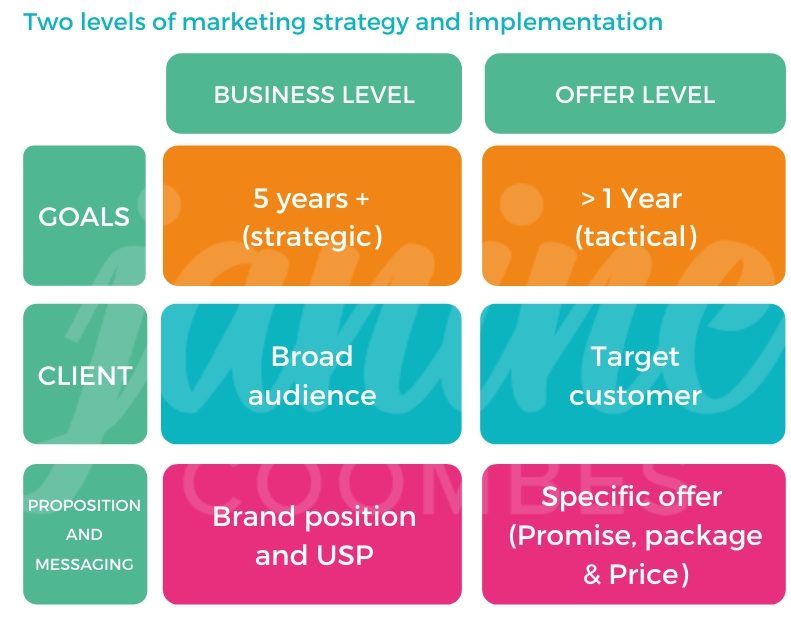 (I'm in the process of writing a blog about how this all fits into your business. Bear with!)
Clients sometimes come to me wanting to work on their offer, when actually it's their their high-level brand proposition that needs work. Or vice versa; clients want to get brand clarity, but I can tell that they're pretty much there with it, it's their offer-specific messaging that needs work. I use this table as a scorecard, to see how close they are in each box, and update it during our work together.
The main point to make with this table is that, the smaller your business, the easier it is to get strategy and tactics mixed up. I've a birds eye view of how these elements all work together to make sure your achieve your goals.
3. Spot quick wins
Things that flash red like a warning beacon to me can be annoyingly invisible when you're in the thick of the everyday doings.
I LOVE spotting and sharing quick wins. Little tweaks to copy here, a sharper call to action there. Or perhaps something bigger like 'did you notice that thing you're offering is zapping your energy and not earning you enough money?'
4. Project management process
There's a common misconception about marketing. Marketing isn't creative. It's project management.
We decide on your objectives, work out how to get there, then put it into action. Review, learn, improve.
THAT is marketing.
Using your valuable resources in the most efficient way possible. Your time. Your energy. Your money.
Work out what's working and do more of it. The stuff that's not working, you stop doing it.
Creative stuff can be outsourced. The tricky bit is nailing your marketing strategy so that you can clearly articulate, to others and to yourself, what needs doing and how.
This is the bit that nobody talks about because they're too busy banging on about ideal customer avatars and sales funnels.
5. Enabling you to effectively brief outsourcers (and yourself)
When I hear small business owners saying they want to outsource their marketing it brings me out in a cold sweat.
It feels like a good thing to do. 'I don't have time to manage my 5 social media channels so I'll pay someone else to do it'. Could it be that you might not need 5 social media channels on the go?
An outsourcer will not question you on the hard decisions. They'll do what you tell them to. In lieu of a competent brief, they'll rely on their extra-sensory perception to guess what you want and will likely get it wrong. Because they're not psychic.
One client came to me last year, having just wasted £3k on a marketing agency, which delivered the sum total of diddly squat. She didn't blame the agency. She told them to get on with it and didn't give them clear direction. She wanted to hire an expert to do the decision making for her. It doesn't work like that I'm afraid.
You can pay a marketing agency for strategic advice, but it will be extremely expensive.
By working with me, you'll get into the swing of doing your own strategic thinking. Teach a man to fish and all that.
Things I am particularly skilled at:
Packaging up services: This is something I often do with clients. Day rates and charging per hour make it more difficult for your clients to budget and is more risky for you. I have a simple three tier method that can be applied to any business.
Messaging: Whether it's high level 'who I am' messaging for your website or offer level 'what's in it for me' messaging for your sales messages and content, my messaging tripod process will take all the content headaches go away for good. Or until your next big business change at least.
Pricing: Pricing is a funny mix of simple maths and mindset mayhem. I love helping my clients charge what they're worth and feel good while doing it.
Brand clarity: As mentioned above, getting clear on what your business stands for and your high level messaging is essential. I've developed my own 4 quadrant brand model that I use with clients who want to tighten up their brand.
Making it easier for you to outsource: During my corporate career I regularly briefed copywriters, designers, marketing agencies, call centres, data teams, you name it. Getting the best results, with minimum hassle from your outsourcer, starts with you being clear on your strategy and being able to articulate it clearly. (See above. It's clear that that's what I help people with, right?) Plus, I have a little black book bursting with amazing Janine-approved outsourcers, so if you're looking for someone, I'm bound to be able to put you in touch with someone useful.
Customer retention and loyalty: Did you know that most of my corporate career was spent in the loyalty and retention departments of big brands like EE? Well now you do : )) Mobile telecoms is one of the most competitive industries. Keeping our customers with sophisticated mix of communications and targeted offers was a fine art. If you have a membership, let's talk churn propensity. 
My point here is that I am a trained, highly experienced marketer. 
What do you NOT get on my Virtual Head of Marketing programme?
1. I don't do the work for you
If you have a crystal clear strategy and all you need is for someone to implement it for you then I applaud you.  But I'm not a marketing agency or outsourcer. 
I'm a consultant and coach. I want to draw out your version of success and help you get there in the quickest, most efficient way possible. That's what I'm good at.
2. I don't tell you what to do
If you're hoping to bung me a wad of cash and that I'll magic up a success plan out of my Mary Poppins hat then you're going to be disappointed.
I use a mixture of a coaching approach and consulting. I ask intelligent questions to prompt your own decision making. And yes, I will of course give you advice that draws on my training and experience too.
But if you're coming to me for ideas because you don't have any, then Google is probably a better place to start. Ideas are ten a penny. The internet is awash with '52 ways to make more money' checklists and '96 sure fire hit content ideas' PDFs.
I love working with people who aren't short of options but want to learn how to discern which ideas are goers. People who are already motoring and want me to help them reach the next level in their business.
3. It's not a full-time forever job
There's a reason I haven't called the programme YOUR Virtual Head of Marketing. I'm not applying to be your head of marketing. I don't want that job. Soz.
I'm training you to be your own head of marketing so that you can run your business, safe in the knowledge that you know which marketing activities you should do and which you should cut out. And you'll be able to properly brief outsourcers and know how to keep them accountable. You'll be any good outsourcer's dream client!
If we get on well and you decide you'd like some ongoing support from me, there are options to do that. But I don't want to imbed myself into your business so that you're reliant on me.
I go into more reasons why you might not want to apply for my Virtual Head of Marketing programme in this blog. (Be aware: it's tongue-in-cheek…)
The nuts and bolts
When you sign up to my Virtual Head of Marketing Programme, it's a 6 month contract with fortnightly calls and Voxer support. Here's why…
Fortnightly calls via Zoom

One to one calls are essential to dig into the nitty gritty together. I've found that weekly calls are too close together to allow you to properly reflect, digest and implement.

Voxer support

Voxer is like Whatsapp but not as annoying because I don't have all the chatty parents' groups pinging incessantly. Also, I have email blindness. Even though I keep my inbox well pruned, I still manage to miss important emails. Voxer is the only app I leave my notifications on. It's simple to use and free.

6 months commitment

I've tried 3 month contracts before but they're simply not long enough to get the results I want for you.

Access to all of my relevant models 

I have a growing vault of marketing models and tools that are designed to save you time and do the heavy lifting when it comes to difficult business decisions. I'll share any relevant ones with you as needed during our work together.
Ready to have a chat? Go on, I don't bite. : )