The Content Marketing Myth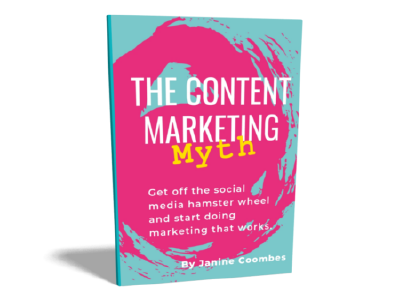 Are you experiencing content marketing guilt?
Do you find yourself thinking:
I'm not producing enough content
I still haven't done that content plan
I did a content plan but haven't stuck to it
I should be spending more time on social media
Perhaps I should be on Instagram/ Pinterest/ use Facebook ads and that would solve my problems
Or perhaps;
You've been dutifully creating content 
You're relentlessly visible on social media
But the pay off doesn't equate to the hours and hours (and possibly pounds and pounds) of your input?
As a marketing professional who has done oodles of marketing for other people, I've noticed that the majority of small business owners are struggling to make marketing work for them. 
It seems like they're working for their marketing instead.
NEWSFLASH 
It doesn't need to be like that. It SHOULDN'T be like that.
Marketing is about being clear on your objectives.
Working out what works and doing more of it.
Stopping doing stuff that doesn't work.
And it's about your customer. 
I'm pouring all of my insights into a book. I want it to be the clearest explanation of marketing for small business owners and entrepreneurs EVER.
Am I going to be content bashing? No. 
Am I going to clear the impenetrable fog surrounding marketing for small businesses? Abso-bloomin-lutely! 
So if you want to:
Find out why creating content can be such an energy drain.
Learn the principles that will be the yardstick for all your future marketing activities.
Face-palm with relief when you realise how easy it is to make online marketing (or any marketing) work for you.
Then hit that button and join my waiting list.