It's a bit bonkers out there at the moment, but most businesses can take proactive action to keep at least some revenue rolling in.
Small business owners, you can do this! Your size means you're more able to adapt to change. It's our main advantage over big employee-heavy, bureaucracy-laden organisations.
Four types of pivots for small businesses
There are four types of pivots that I've identified. I'm going to run through them one by one, along with the risk level and opportunities of each.
Message pivot
Audience pivot
Offer pivot
Business pivot
My four pivots are roughly in line with the four quadrants of Ansoff's Matrix. I've adapted it to compare the risks of each type of pivot.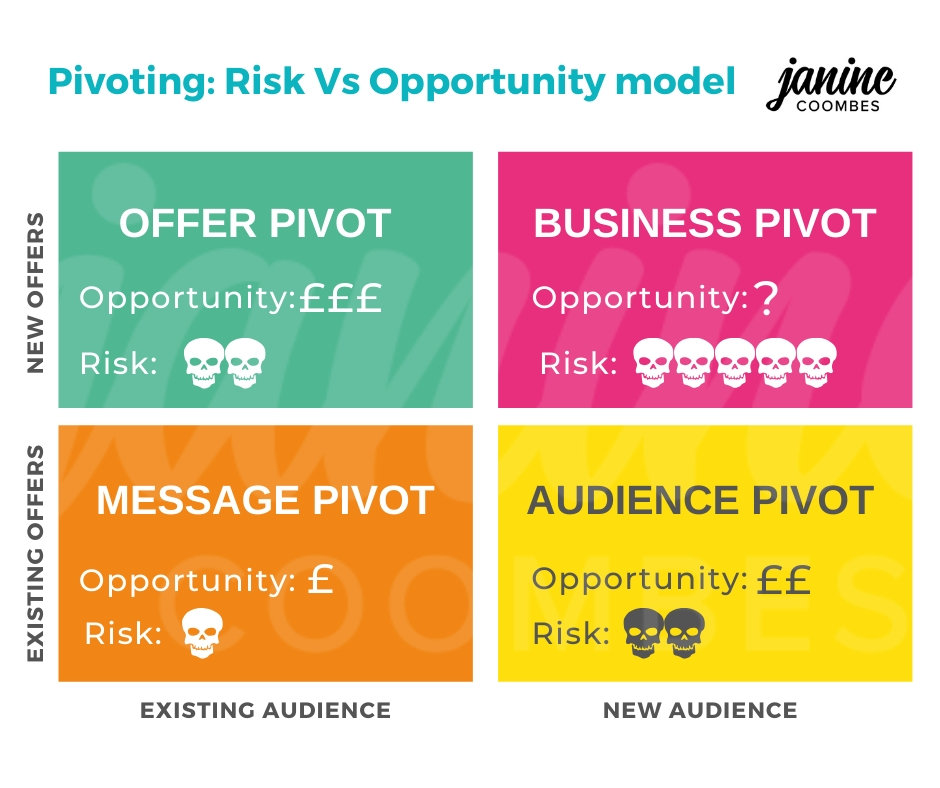 The risks and opportunities of pivoting your small business
From top to bottom we have 'existing offers' (selling the same stuff) versus 'new offers' (selling new stuff).
From left to right we have 'existing audience' (people who know you) versus 'new audience' (people who don't know you).
Selling current offers to people who already know you is always going to be easiest.
Offering something you've never sold before to people who haven't got a scooby doo who you are, is always going to be the most difficult, the most time intensive and definitely the riskiest option.
1. MESSAGE PIVOT
If you want to be pedantic about it, this isn't really pivoting. It's tweaking what you say about your current offer(s) so that what you're saying resonates more with your audience.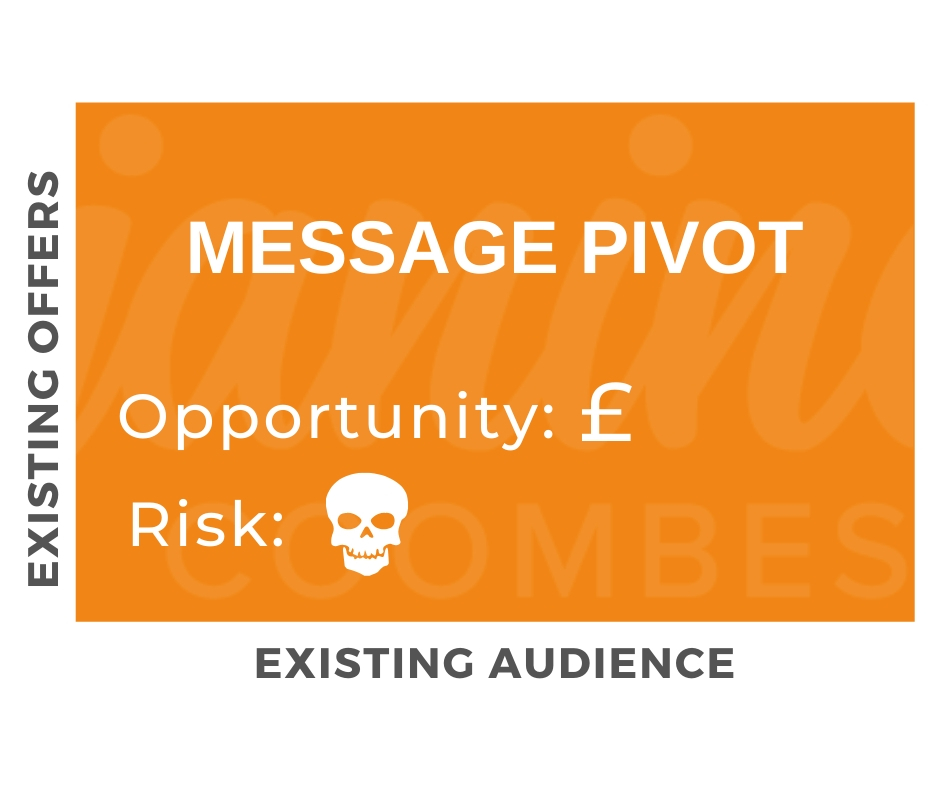 Example of a Message Pivot
Nicole Winer, Virtual Business Manager, has always been good at helping small business owners be more productive. She has noticed that the mind monkeys of small business owners are using the recent happenings as a reason to procrastinate. She's not taking any prisoners! Check out her LinkedIn posts and her Small Business Facebook community.
Risks of a Message Pivot
This is by far and away the least risky option and the easiest and quickest of changes to deliver.
If you've got an audience who have a problem that you can solve and the means to pay you to resolve it, then an adjustment of your messaging might be all you need.
A question to ask yourself: how can you reduce the perceived risk of your offer? E.g. Deliveroo emailed everyone on their email list to tell them that their delivery drivers will be observing the government's social distancing rules.
Opportunities of a Message Pivot
I've ranked it as the lowest level of opportunity in the matrix. But if a mere tweak to messaging is all you need to sail through this crisis period relatively unscathed, then fabulous! There could be bigger opportunities for revenue growth lying in the other options though. It depends how much time and energy you have to explore the other options.
Is a Message Pivot right for you?
Tough love time; you should be constantly pivoting your message all the time anyway. People change. The world changes. We need to keep up.
Small businesses that could easily opt for a Message Pivot; anyone offering mindset coaching, anxiety support, mindfulness resources, in-home entertainment, online exercise classes, online parenting skills training, business coaching. Pretty much anything online!
If people in your current audience don't want your current offers, or more to the point can't buy them (in the case of in-person service providers) then a message pivot isn't going to do anything for you. If you sell something that no size of messaging miracle can fix, keep reading.
2. AUDIENCE PIVOT
This pivot involves offering something you currently sell to a new audience. This could be to people who've never heard of you before or it could mean a minor expansion of your definition of your ideal customer.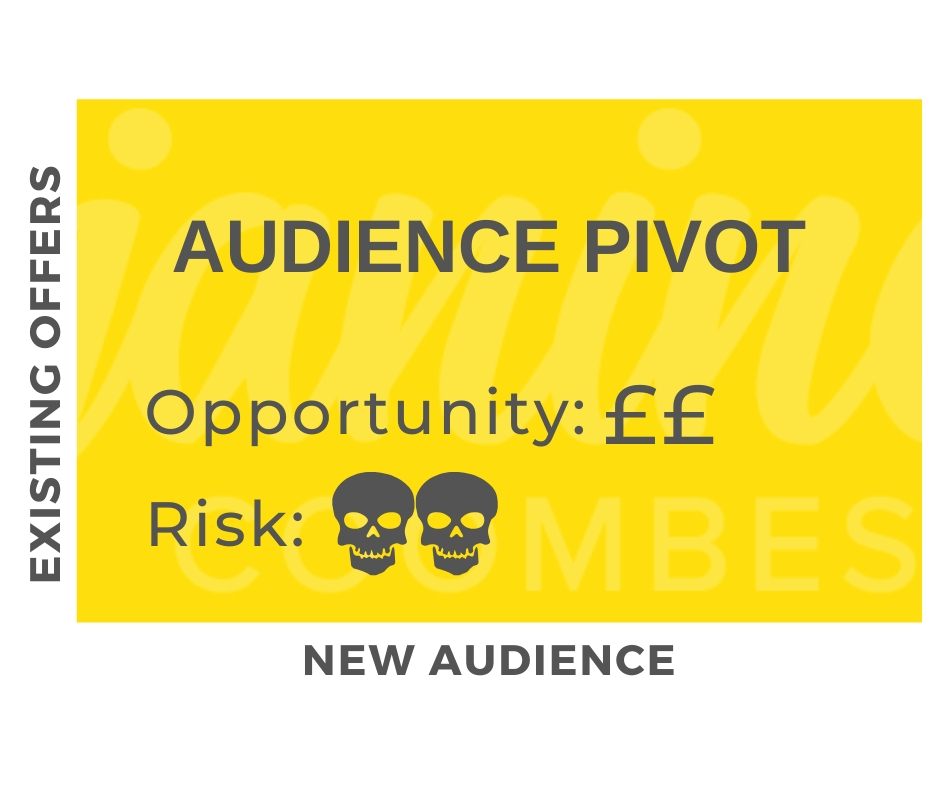 Example of an Audience Pivot
Lucy Parsons, an academic coach, anticipated a huge wave of cancellations in her study skills membership when GCSE and A Level exams were called off.
The UK government then announced that schools would close. In response, Lucy opened up the Extraordinaries Club to parents of younger children facing the prospect of homeschooling their children for the first time with very little support. She's including daily Facebook lives to answer their questions and she used project management tools to provide structure and mindset support for their kids. Members also get access to live tutoring.
Risks of an Audience Pivot
The risk factor is relatively limited when you're pivoting your audience because you're not departing from your bread and butter offering.
If your new target audience doesn't want what you're selling, the main risk is your time investment. It'll also take you longer to get your head around what the new prospects' pain points are, and considerable effort to get known in these new circles.
It's worth pointing out that I'm not suggesting you abandon your current audience if they're still buying from you or will do in the future.
Opportunities of an Audience Pivot
The opportunities could be great. If you notice a large, untapped need in a new audience and you have the perfect solution ready to go, you could get a swift influx of revenue if you act quickly.
Is an Audience Pivot right for you?
If you think you could help a different set of people without alienating your current customers, or if your current customers can't buy from you, then it's worth investigating.
Regrettably, there are many people suffering job-losses and dramatic drops in revenue at the moment, but not everyone is. Some businesses can't keep up with the increase in demand. Obvious examples include essentials like loo roll and pasta, and industrial cleaning firms can't find enough staff. More obscure examples include the upsurge in sales of coffee pods and home bread makers.
3. OFFER PIVOT
Pivoting your offer simply means changing one or more elements of it to make it more appealing to current customers so they're more likely to buy it. You could also come up with a whole new offer that's more appropriate to what your current audience needs right now.
The best ideas will come from your audience. What are they saying that they're struggling with? If you don't notice any themes by looking at your online communities, then ask them!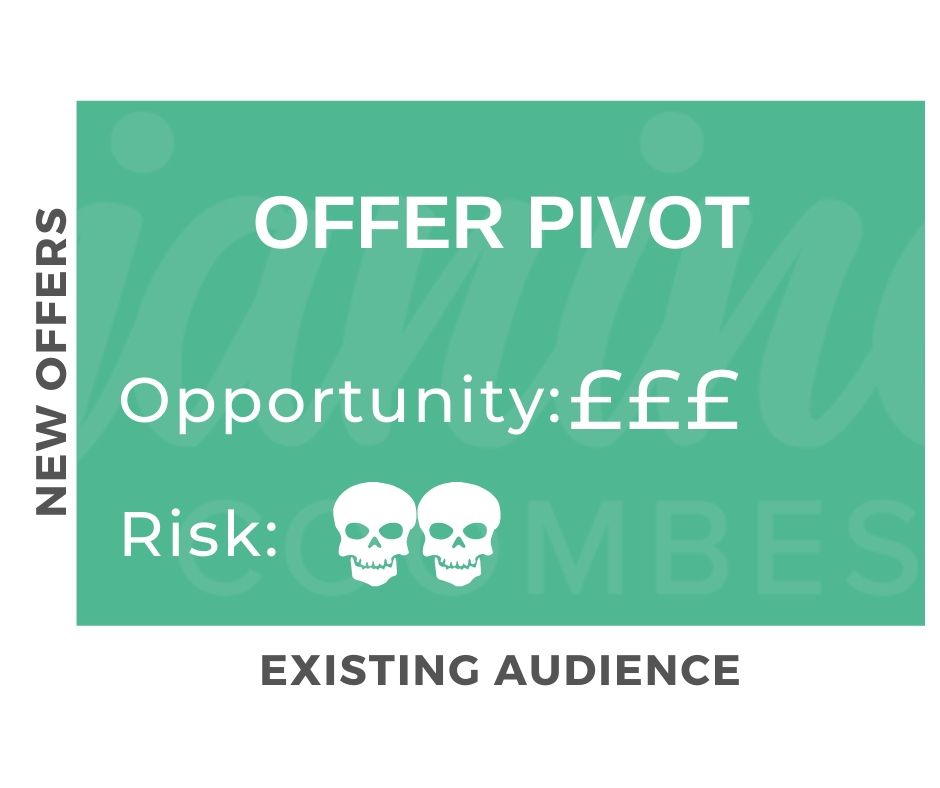 Let's have a look at some options of what you could do to pivot your offer.
Change the delivery time of the offer
By selling vouchers or taking deposits now for services rendered at a later date, you can still get some revenue flowing in, even if you're an in-person service provider. For example Outside the Box Comedy are offering vouchers to their loyal customers.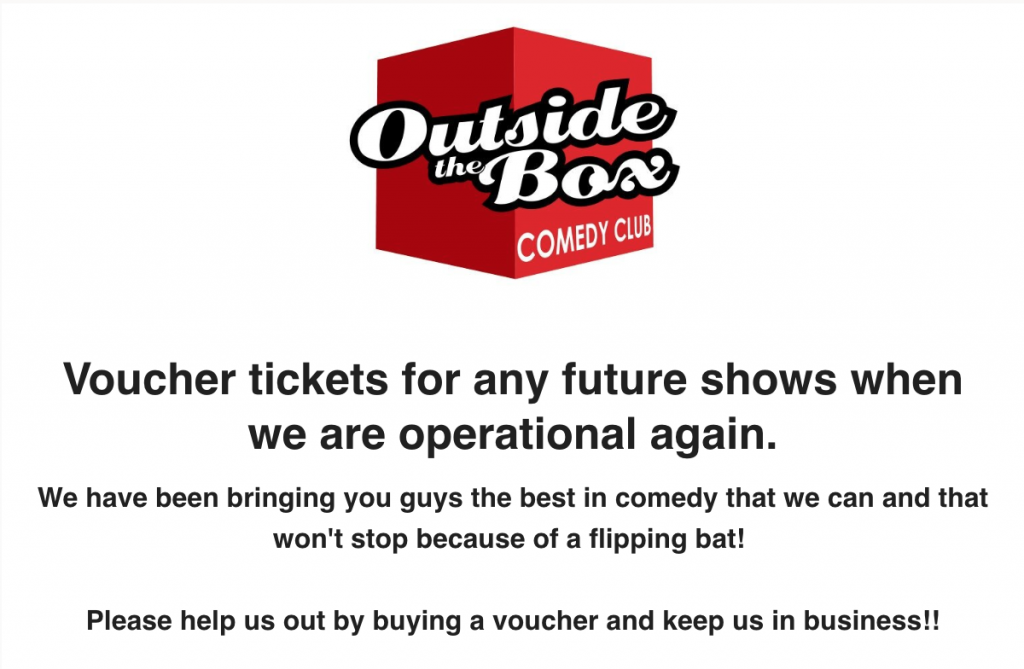 Changing the location of the offer
Many in-person events are being successfully delivered online, like Andrew and Pete's previously Newcastle based event. Atomicon will now take place over a longer period of time, with more speakers and the inclusion of features like hiring a matchmaker to facilitate networking among attendees and speakers
I've also seen the local restaurants in my town offer home delivery, even the places that have never offered takeaways before.
Changing the usage purpose of the offer
I've noticed several hotels offering their rooms out as offered as single-occupant day time office spaces for as little as £25 a day. Absolute genius!
Completely new offer
Create a whole new offer that current customers are in need of e.g. Janet Murray put together her 'online to offline' workshop after she spotted there was demand for it. She has now bundled it together as an Emergency Response Plan package, available on her website.
Risks of an Offer Pivot
Risk is relatively low because you'll be talking to your current audience who already know, like and trust you. This also means that you (should) know who they are and what they'd normally be struggling with. It shouldn't be difficult to imagine how a crisis will be affecting them and come up with some solutions for them.
Opportunities of an Offer Pivot
This is the most flexible option. You're only limited by your imagination. Oh and your ability to deliver!
Check that you're not offering anything completely out of whack with your brand or values. Marketing is all about testing, learning and testing again. If it doesn't work, adjust and try again.
Is an Offer Pivot right for you?
Out of all the options I've covered, this is probably the best mix of opportunity and limited risk. Just make sure you don't spend too much time perfecting. Time is of the essence. Better to get something imperfect now than to titivate and miss the boat completely.
4. BUSINESS PIVOT
A Business Pivot involves creating and selling new offers to people and/ or businesses who don't know you yet.
How long did it take to create the audience and monthly revenue that you have now? I'd strongly suggest that a crisis is not the time to launch what is effectively a whole new business unless you have a bottomless pit of resources and you're extremely well connected in your new market place.
I'm seeing small businesses panicking and jumping into a complete Business Pivot without thinking of the impacts to their business in the long-term. I shudder to think of the devastating effects it could have on their brand and reputation.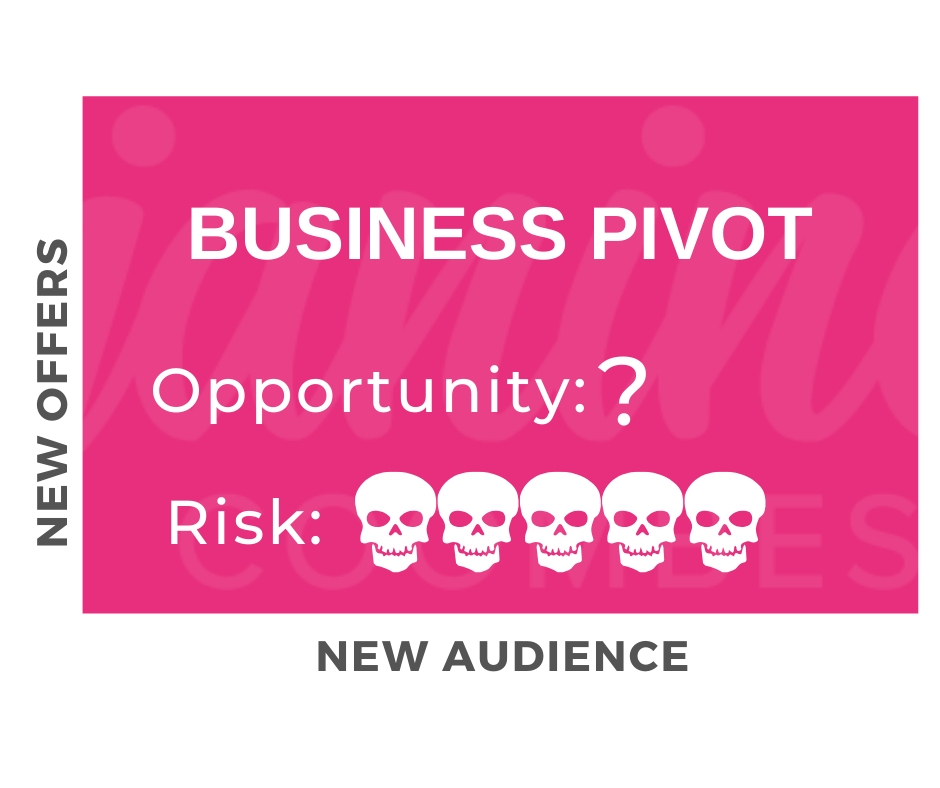 Examples of a Business Pivot
I haven't seen any examples of successful business pivots during the current happenings. But here's an example of a total Business Pivot that worked.
Pelpina Trip was originally a successful YouTuber, sharing her breastfeeding advice with new mums. She has since pivoted to teach entrepreneurs how to create engaging videos with their smartphones.
Risks of a Business Pivot
This is the most risky option. Changing both your offer and your audience at the same time is effectively a whole new business. It's a complete unknown.
Risks include:
Alienating your current audience so, if the pivot fails, you've scuppered your previous business model too.
Damaging your brand. You've heard all the advice about being consistently visible? Well that's on the proviso that you're being consistently visible with the same brand, tone of voice and types of offerings.
Loss of time, energy and possibly money invested in the new venture if it doesn't work out. The effort it's going to take to get this new audience to know, like and trust you, and to the point of buying something from you is going to be massive.
In short, don't pick this option in a crisis unless you've exhausted the other options first and have an absolutely sure-fire idea. Preferably with connections in the new market who can promote and refer you.
Opportunities of a Business Pivot
It's possible that you could come up with something amazing! Or it could be small gains for little reward. That's why I've put a big, fat question mark as the 'opportunities rating' on the matrix.
Is a Business Pivot right for you?
To decide whether a total Business Pivot is right for you, weigh up the impact of your new direction on the clients and business model you have at the moment.
How much does your new direction clash with your old business model? Will it alienate your previous audience and, if so, is that something you can afford to do right now?
Pivoting your small business: Conclusions
If you can find a way to run your business throughout the current happenings, it's your duty to do so. For your community, for the economy and for your sanity!
I can't think of any small business owners who are trying to make money by ripping people off. Please don't let those mindset gremlins get the better of you. It's not wrong to try and make money at a time like this. It's called business. And you can conduct business ethically and with a true heart.
If you're still scratching your head after reading all these options, email me at janine @janinecoombes.co.uk and let's talk through your options.