Want a bit of help to make your small business more successful?
Perhaps you want to build your audience or just plain need more revenue.
Lucky you! There are tonnes of options open to you. Memberships, DIY programmes, masterminds…
The choice is massive.
The aim of this blog is to help you choose which option(s) would be best for you.
These are the types of online services I'm going to cover:
Online courses
Memberships
Masterminds
Group programmes
One-to-one programmes

1. Online courses
What are online courses?
An online course is a way of learning a new skill without having to leave your desk. They're ideal if you have something specific you want to learn. The course will be preplanned and accessible via your laptop and/ or phone.
Online courses vary wildly. Both in topic and in quality.
Most are purely DIY. You pay your money, you register and then you're on your own to work through the modules.
Sometimes you get access to all the tutorials at once on a portal or video hosting platform. Others you're drip-fed the syllabus by automated emails.
On a rare occasion, the online course is run live by the expert on a video conferencing platform like Zoom or Skype. This happens if it's a BETA run through. In other words, it's the first time they've run the course, so they want to make sure they know exactly how it goes and if there are any bugs to be fixed before they set it to run on autopilot.
Features of online course
Online courses often have these features:
A series of videos to watch, recordings to listen to or documents to read.
Other text-based materials like downloadable PDFs and checklists.
A Facebook group for participants to share learnings and get their questions answered by the person running the course.
Is an online course right for you?
If you can pinpoint a specific knowledge gap that's holding your progress back, an online course is a great solution.
For example, if you know your messaging is hitting the spot with the people you love to work with, but you want to power up your impact on Instagram, then a course taking you through Instagram best practice* could be a wise investment.
Online courses can't deliver large scale change though. If your offer is missing the mark or you're targeting the wrong people, an online course won't fix that.
What to look out for when picking an online course
Look at the background of who's running the course. If they have a training or teaching background, chances are the quality of the course will be better. If not, you might be able to get a sense of their style from their other content. Recommendations from trusted friends is always a good bet.
What's your learning style? If you know that you hate watching videos, don't buy a course run on video. If you know you learn best by doing, an online course might not be right for you at all. It might be better to invest in a one-to-one mentor.
Know yourself and buy accordingly.
How much will I pay for an online course?
There are some amazing bargains out there. I've seen excellent courses on sale for as little as £29. More in depth courses will cost hundreds of pounds/ dollars. Online courses rarely reach into the thousands.
Pros of online courses
Affordable, in comparison to the other options.
You can tell exactly what you're buying, therefore they're the lowest risk purchase option and great for newer business owners.
Often you get lifetime access to the course material.
Cons of online courses
You won't get a huge transformation from an online course. They're best for bridging a specific learning gap.
The onus is on you and your time to absorb the info and apply it with little or no support to do so. If you're a more established business owner, outsourcing tasks might be a more efficient way to move forwards.
Shiny Object Alert:

For newbies who have limited funds and who aren't used to the almost irresistible way online courses are marketed, they can find themselves turning into course kleptomaniacs. Take a step back and see what you really need in your business before buying one.
2. Online Memberships
What are online memberships?
Online memberships are usually based around a learning objective e.g. improving your website so you get more leads, building your audience, or writing better copy and run by an expert (or experts) who know the topic inside and out.
You usually get access to a stock of learning materials (and even self-contained courses in themselves) that are held on a portal on the expert's website. If you leave the membership, you relinquish access to that portal.
The hub of activity usually happens in a private Facebook group, Slack group or other group messaging platform.
Features of memberships
Some memberships have:
Monthly 'office hours' on Zoom where you can ask the experts questions and get their personal feedback.
Regular masterclasses delivered by guest experts
A bank of tutorials and learning resources you can dip in to at your own pace
A directory so you can find service providers and suppliers among fellow members
A Facebook group or Slack group for support and networking
Is an online membership right for you?
Memberships often attract people who have newer online businesses, but you need to be realistic about the results you're going to get. Lower price, and lower face time with the expert means it'll take longer for you to get where you want to go.
That said, I'm part of several amazing memberships and you can't beat them for the feeling of camaraderie and support. The benefits that come from the inherent networking aspect can't be downplayed.
The other point is that it takes time and effort to get the most out of a membership, so if you want solid results but don't have time, it might not be the best bet for you.
What to look out for when picking an online membership
Getting recommendations from people you trust is a good idea for any purchase. As you spend more time in the online world, you'll start to get a sense of who are good eggs and who are a bit rotten, and for what types of services will suit you most. I've got much better at choosing my investments the longer I've been in business!
Interaction with the expert running the membership can be minimal. It has been known for higher-level influencers to hire a Facebook Group manager to run the day to day. This shouldn't impact the learning potential, but some people don't like this. So if this is important to you, check before you buy.
How much will I pay to join a membership?
Most memberships are between £30-£100 per month or you can pay for a year up front for a small discount. I haven't come across any that include an extra joining fee.
Pros of online memberships
Networking and camaraderie.
Some have really excellent learning materials in there, worth way more than the membership fee. I'm currently in a membership where the experts a three month content challenge and feedback on one blog per week. Amazing value!
Beat the isolation you can feel as a result of working on your own!
Being in a membership which is full of your ideal customers is a fab opportunity for market research!
Can have excellent ROI bearing in mind all of the above for such a low monthly cost.
Cons of online memberships
Not great if you're time-poor.
Can be a wonderful procrastination tool! So approach with caution if you're easily distracted.
You can get leads from being in a membership, but I'd advise against any outright sales efforts. You'll end up being chucked out. Better to play the long game and foster genuine relationships.
3. Masterminds
What are masterminds?
The way a mastermind works is when an expert brings a small group of like minded business owners (usually 8 or less) together for mutual encouragement and accountability. They share learnings and experiences. They give each other ideas and feedback. The expert plays the role of facilitator and is on hand for any questions as the most advanced member of the group in terms of their business success.
Masterminds are a bit like group mentorship. Read this blog for more detail on the role of mentors.
They tend to have one or two group calls a month on video conferencing software like Zoom or Skype. You also get an easy and discrete way to speak to each other using Whatsapp or a secret Facebook group. Some masterminds include in-person meet ups which can really solidify relationships.
Some masterminds require commitment for a set period of time e.g. 3 months, and no new people will be allowed in during that time. Others allow people to join month-on-month.
Features of masterminds
Masterminds usually have these features:
Regular, supportive group calls a month on a platform like Zoom
A Facebook group or Whatsapp group so you can communicate with each other
Some masterminds include in-person meet ups
Is a mastermind right for you?
Masterminds are great for business owners who have a solid strategy and they want a close-knit support network to cheer them on to the next level. If you need a sounding board and relief from the isolation of working on your own, a mastermind can be a great choice.
Usually there isn't a specific learning objective to a mastermind, but it's good if the group of people are at the same stage and/or have similar business models to you.
What to look out for when picking a masterminds
There's a large element of trust with picking a mastermind, so make sure you're familiar with the person running it. You can ask them to check whether the other participants are at the same level as you too.
Other People's Opinions Alert:

Although it's true that another mastermind participant could give you a genius idea that could earn you big bucks, it's equally possible that a great-sounding idea could turn out to be a major diversion from where you're heading. Suggestions are just that; suggestions. You don't have to implement every idea you're given.
How much will I pay to be part of a mastermind?
The question is, how much do you want to pay? For a simple, online-only mastermind, you could be paying under £200 per month. For an all-singing, all-dancing mastermind that includes one-to-one calls with the host plus a luxurious retreat, you'd be paying nearer £2.5k. Some even take place in tropical locations. Out of all the options, masterminds strike me as the most 'you get what you pay for' in terms of in person support and access to the expert.
Pros of a mastermind
Great for moral support and accountability.
Small group equals close networking and more time dedicated to each person than on a group programme. I've seen amazing friendships formed in the crucible of masterminds.
Good masterminds have clear rules that have to be adhered to, setting the right tone for your time together.
An outsider's perspective on your business can be invaluable.
Cons of a mastermind
An outsider's perspective on your business can nudge you off course if they don't understand what you're trying to achieve.
Other than than, as long as you're realistic about what you're going to get out of a mastermind, there are very few negatives. Masterminds can be surprisingly affordable too.
4. Group programmes
What are group programmes?
Group programmes are online courses that are run live, with the expert guiding you through the material. You'll be able to get to know the other participants and have greater opportunity to ask questions if you get stuck. As with online courses, there'll be a syllabus that you'll be able to have a look at before you buy, so you can see exactly what you'll be getting for your money.
Features of group programmes
Group programmes usually have these features:
Regular group calls
Facebook group for support and questions
A set syllabus. The expert either takes you through it live on the group calls or you watch the pre-recorded tutorials in your own time.
Often additional materials are available to download e.g. printable PDFs that you can fill out
Is a group programme right for you?
If you're familiar with the expert's content (and like it) and you like the idea of learning a specific skill alongside other business owners then a group programme could be for you.
Group programmes are very similar to online courses. You can't expect massive changes in your business, no matter what the testimonials say. If you haven't got your strategic direction clear in your business, or you're trying to sell an offer that nobody wants, a group programme will not fix that for you. It's not the job of the person running the group programme to check that you've got your house in order. Many of my clients come to me having got lost halfway through group programmes. Deeper work needs one-to-one attention.
What to look out for when picking a group programme
Some group programmes are massive, with 30+ people on each call. Therefore you won't get much face time with the expert if that's what you were hoping for. If this is important to you, check how many other participants there'll be.
Mastermind Mix-up Alert:

Look out for group programmes that are labelled 'Masterminds'. This doesn't affect the results you'll get. Just be aware of what you're buying. You might be disappointed if what you're expecting is a traditional mastermind (see below) but what you're getting is effectively a course.
How much will I pay for a group programme?
Group programmes are more expensive than online courses because the expert has to spend time interacting with students. They can cost as little as a few hundred pounds, but frequently cost £2k plus, especially if run by larger scale influencers.
Pros of a group programme
You'll be able to see the syllabus in advance so you'll be able to see if it's going to teach you what you want to know.
Great for networking.
Accountability to get the work done and a feeling of 'we're in it together'.
The benefits of an online course with a greater chance to get your questions answered by the expert.
Often you get lifetime access to the course material. Some even allow you to participate in subsequent rounds free-of-charge.
Cons of a group programme
Not always a cost effective option. Some group programmes can cost the same as working with a different expert one-to-one. General rule of thumb; if the person running them is entrepreneur-famous, they can command higher fees.
The calls that are included in group programmes are sometimes called ''group coaching calls' but they're not true coaching. Coaching is an in depth exploration of your motivations and objectives. In general, these group calls are run more like Q & As.
Not good if you haven't got your business basics right. It's not the expert's job to check this.
Shiny Object Alert

Some group programmes have a momentum all of their own, like Marie Forleo's B-School. To the point that the programme can seem like a 'must-have'. But rest assured, no group programme is a must-have. I know so many people who've gone through group programmes only to get stuck halfway through. The people who get the most out of group programmes are paying their money for some extra knowledge or to acquire a new skill, not to find 'the answer' to a big business problem.
5. One-to-one programmes
What are one-to-one programmes?
One-to-one programmes are a package of coaching, consulting or mentoring calls spread out over 3 to 12 months. Read this blog for a summary of the different types of one-to-one expert. It's usually the most expensive option but will get you the best results because every call is focused on you. The expert has the time to dig into your objectives and get to know what makes you tick.
One-to-one programmes aren't usually focused on one specific area, they're higher level, more strategic and aim to achieve significant long-term shifts in your business. Some group programmes claim to achieve that for people, but I don't see how they can be as effective as one-to-one attention. #SorryNotSorry
Sometimes one-to-one programmes have a set of learning objectives others are purely reliant on the client to lead the way. In both cases, all good one-to-one service providers should adapt to the client's objectives and desired ways of working.
Features of one-to-one programmes
Weekly or fortnightly calls via Zoom, Skype or normal phone.
In between support via Voxer, Whatsapp or email.
Is a one-to-one programme right for you?
If you're ready to knuckle down and get serious with your business then you can't beat a good one-to-one programme. Perhaps you need clarity on your offer or your target audience, or perhaps you're trying to move on from a sticky income plateau.
A friend once said to me 'I only work one-to-one with people now. I don't want to waste my time on any group programmes or online courses any more.' The longer you go in business, the more valuable your time is. If you want to see big changes in a relatively short period of time, one-to-one is the way to go.
What to look out for when picking a one-to-one programmes
Working with someone one-to-one is an intense experience so it's essential that you get on with your coach/ consultant/ mentor.
Some one-to-one programmes are 'cookie cutter' and don't go deep enough. In other words, it's like a group programme that the expert has mapped out and is delivering it like a training rather than a true, adaptable one-to-one service. Think broadcast versus two-way.
Take your time when making the decision whether to work with someone one-to-one. Absorb some of their content. Have a discovery call with them. And don't ever feel the pressure to make a decision about whether to go for it then and there.
How much will I pay for a one-to-one programme?
One-to-one programmes start at around £200 per month and go up to tens of thousands of pounds depending on the profile of the expert. Working with me starts at £500 per month, and I have based that price on my level of industry experience and the kinds of results I get for my clients.
Pros of one-to-one programmes
You'll get the biggest transformation from working one-to-one with someone than any of the other options featured here.
Greater flexibility. If you need to move a coaching call, you'll usually be able to do it if you give sufficient notice. If you miss group calls or mastermind meet-ups, you forfeit that opportunity.
The best option if you're looking for clarity in your business.
Cons of one-to-one programmes
Not great for newbies due to the cost, unless the expert specifically works with people with newer businesses.
It's a risky purchase decision. It's usually high-ticket and, if you haven't worked with the coach before, you don't yet know for sure if you're going to get along well.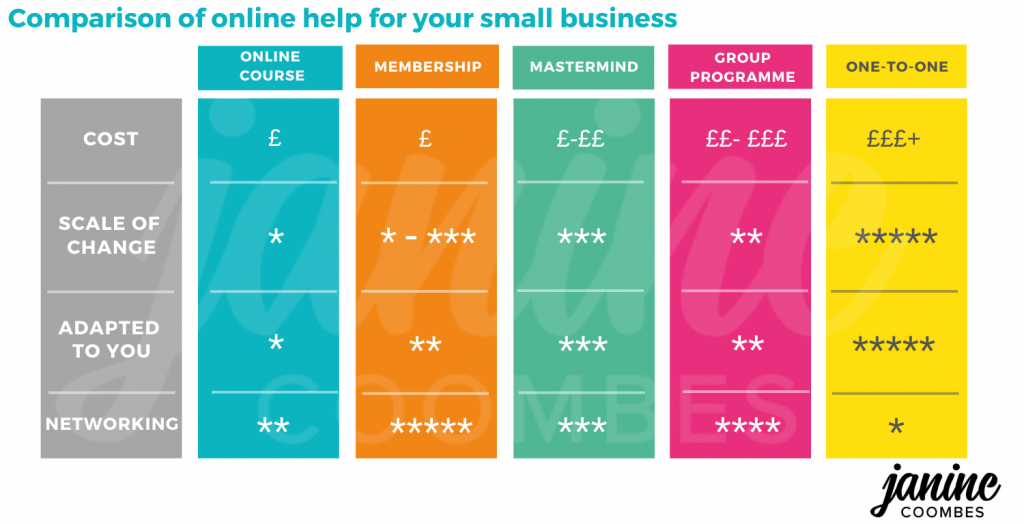 N.B. Scale of change likely for you small business
The scale of change that you'll get as a result of any of these online services depends on you. The more you put in, the more you'll get out. The points I've allocated are based on my own experiences and feedback from others for the potential for change from each service.