Don't you just love how easy it is to make big decisions? You simply make a pros and cons list and voila! The answer is obvious.
Only that's not how it works when you run your own business, is it.
If you're anything like me, you have a million and one ideas and it's tricky to know which ones are goers and which ones are red herrings. Let alone prioritise it all.
Well, that's the very reason I've created my Untangling Call!
My shortest, sharpest consulting option designed to bang your most troublesome business nail on the head.
It's still an investment decision though; so in the spirit of making decisions easier, here's everything you could possibly want to know about my Untangling Call so you can find out if it's right for you or not.
What is it?
The Untangling Call is my smallest (and cutest?) business and marketing consulting service.
It consists of a survey, some prep by me, a one-hour Zoom call where we pull apart your most troublesome business problem ailing your business at the moment and find a solution that works for you. We usually have time to get the bare bones of a plan together too, if that's what you want.
I love getting stuck into a tricky problem and breaking it down so the right answer plops out. Like an egg into cake batter.
What does it include?
Here are the nuts and bolts of how it works:
Prep by me: The more relevant info you give me before the call, the more we'll be able to cover on our call together.
I'll have a gander at your website and scope you out on socials. And any other relevant URLs you might send me e.g. sales pages.
1 hour Zoom call with me.
And yes, we can record the session for you to refer back to if you want. I'm a note taker too; let's try and avoid an RSI if we can!
Is there any follow up?
Most of my Untangling Call customers are ecstatic at the end of the call and don't ask for any follow up. But I'm more than happy to answer follow up questions by email for 7 days after the call. (During weekday office hours that is.)
How much does it cost?
It costs £295.
Why doesn't it cost £99 like most people's power hours?
There are several reasons why I've set the price at £295:
The value I'm delivering is much greater than the price tag. If you don't believe you're able to get more than 300 quid's worth of value out of this consulting call, then the Untangling Call is probably not for you. I'm not being facetious! See 'Who's it for' for more info.
This price makes me want to pull out all the stops. To be fully present. As soon as this stops being the case, I'll put the price up.
Funnily enough, when clients pay more, they turn up fully present and willing to pull out all the stops to get the most out of the call! That's price positioning working its magic.
In short, if it was any less and I wouldn't be able to do my best work. I want to do my best work for you.
What can I use an Untangling call for?
Pretty much anything you want! Here are some ideas:
Working out how to raise the price of your one-to-one offer.
Trying to figure out why your recent launch was a flop.
Deciding what type of lead magnet would be best for a certain offer.
Working out why your sales aren't converting as well as you'd like.
Picking which audience to zone in on (AKA deciding whether to niche).
Wondering whether to launch a podcast, a YouTube channel or both.
Deciding whether you should launch a membership.
Moan about how difficult it is to run a business when it's just you and you have no objectivity any more. (You can do this one in combo with any of the ones above. : ))
One Untangling Call client sent me a lengthy email ahead of our call with 5 separate questions that she wanted clarity on. She was worried that it was too much. But we were able to cover it all because those questions were so specific. She left the call with a big smile of relief on her face. Just how I like it.
As long as you're able to clearly articulate what you're struggling with and give me a bit of background, we can find a solution for you on the call.
Who's it for?
I get best results when I work with people who've already got a solid brand, their website's up and running and they know their way round social media.
That said, if you just want me to tell you how to get better engagement on LinkedIn for an hour, I can certainly do that! But it might not be the best use of our time together.
My most successful Untangling Calls are with service based business owners who are selling a mixture of high ticket services, group programmes course and memberships.
I do also work withs done-for-you service provider e.g. copywriter, VA and designers, but if you want to talk about moving away from charging by the hour or day email me to talk about other options that might be better for you.
How do I book in?
Ready to unpeel the sticky chewing-gum problem from the sole of your business? Simply click on the button below.
You'll be asked to pick a slot in my diary, which looks like this: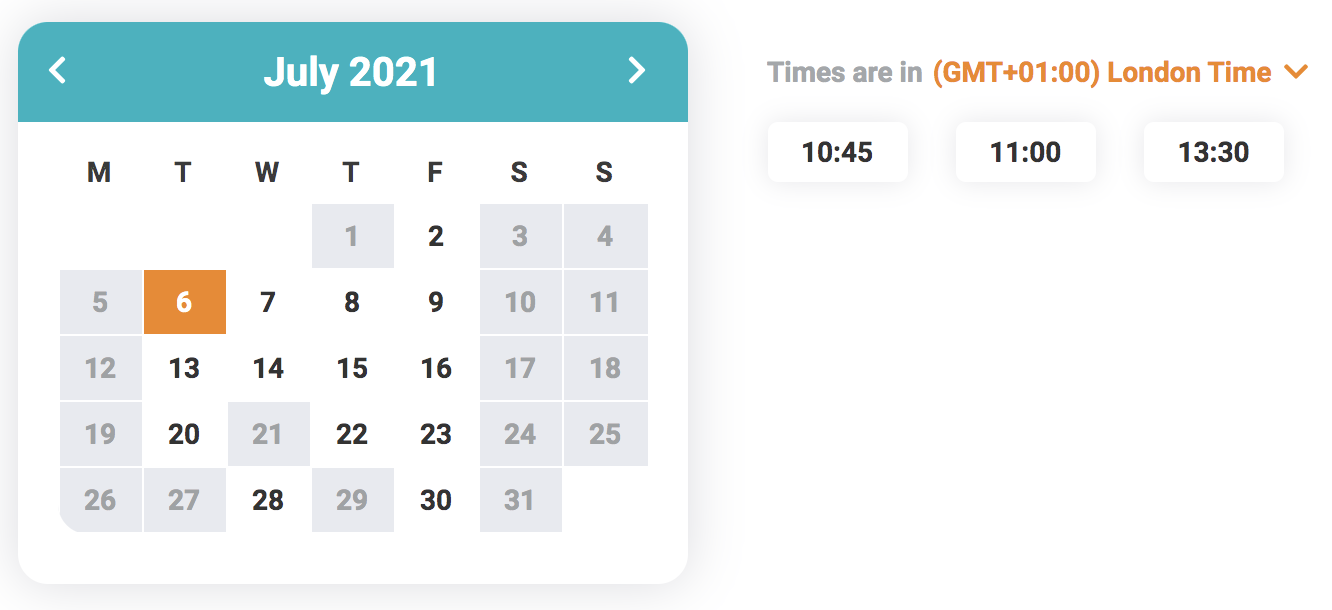 You'll then be shown the questions you need to answer to allow me to prep for the call: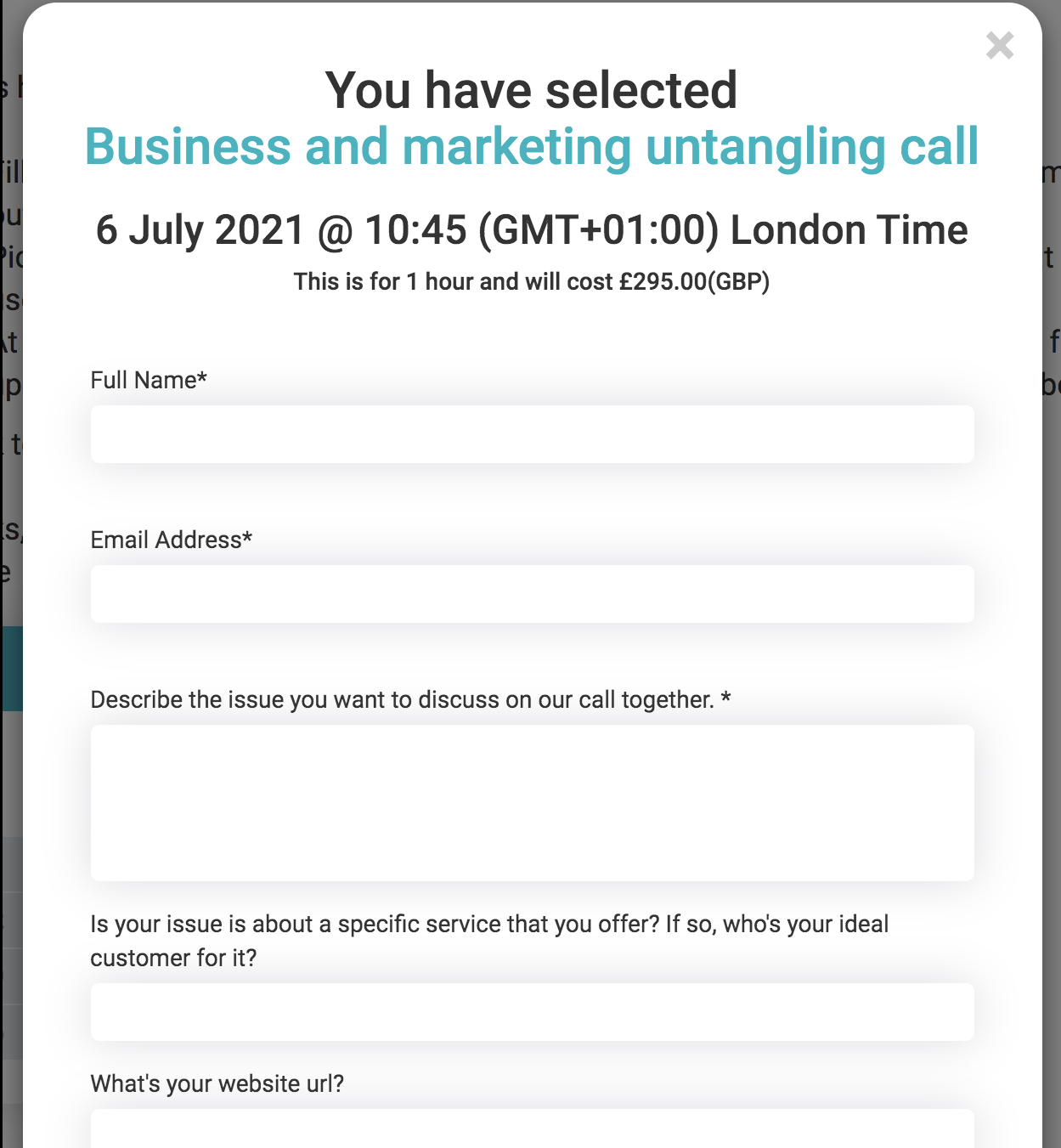 Your payment options are at the bottom of the form: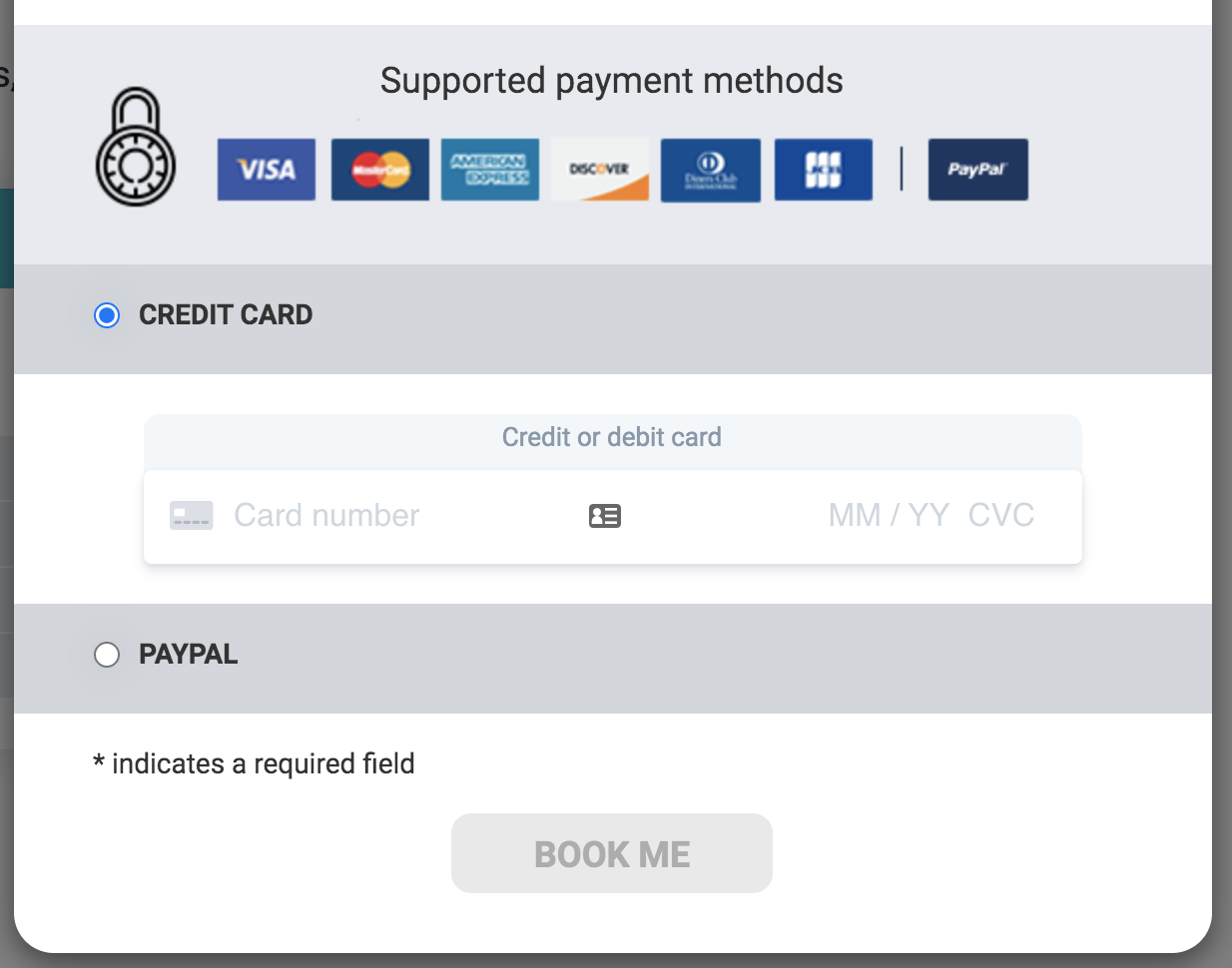 Here's that button to book in an Untangling Call with me:

Or, if you want to find out more, click here to be wooed by the words on my sales page.