The good, the bad and the ugly- Media Influence Live 2018
I decided that I wanted to go to one of Janet Murray's events at the end of last year. I'd already done her PR for Starters course and joined her membership and I wanted more, more, more!
I had been eagerly waiting for her to reveal the line-up for Media Influence Live 2018 and when I heard that Andrew and Pete were speaking, I was in there like swimwear*.
So, was it all wholesome learning and lovey dovey networking? No it was not. There was some good, some bad and some very ugly happenings. And I believe it is my civic duty to share it all.
The Good
1. The journalists
I mainly booked for the day two speakers and practical applications of learnings. But day one's line up was stellar. The journalists that Janet had gathered together were so down to earth and eager to help us. They really brought to life the fact that they're just trying to do their job.
You can help them by;
Researching the publications that you want to be featured in. Properly digest a few issues/ episodes. What stories do they usually feature? Who are their readers?

Only pitch good stories. What makes a good story? Think about what you'd tell your friends about in the pub. Would you tell them that you've got your Investors in People award again this year? (If so, I don't want to go to the pub with you. Ever.)

Regularly search for #JournoRequest and #PRrequest in Twitter. Make sure your profile is up to date and that you have clear contact details e.g. email and/or phone number. Basically, be on Twitter if you're serious about getting press coverage.
If you genuinely help them, they will remember and will be more likely to use you again in the future. It's like they're human or something.
2. The online bods
Aleisha McCormack
I'll admit, I'd never heard of Aleisha McCormack's Bridechilla podcast but then I'm not planning a wedding. She was a replacement for another podcaster who dropped out but I can't imagine the other one being as good as Aleisha. She was a comedian in a former life and it showed in her fun and engaging presentation. I really wanted to contrive a reason for keeping in touch with her, but can't think of anything more intelligent than 'I really like you! Will you be my friend?'.
Jess Dante
Jess Dante, has the Love and London YouTube show, was fantastic as well. She stuck around for day 2 even though she wasn't speaking and joined us for the Friday evening pub visit too. Her talk was stuffed full of useful info like focusing on watch time as the key metric that YouTube uses to decide if your videos are worth pushing or not.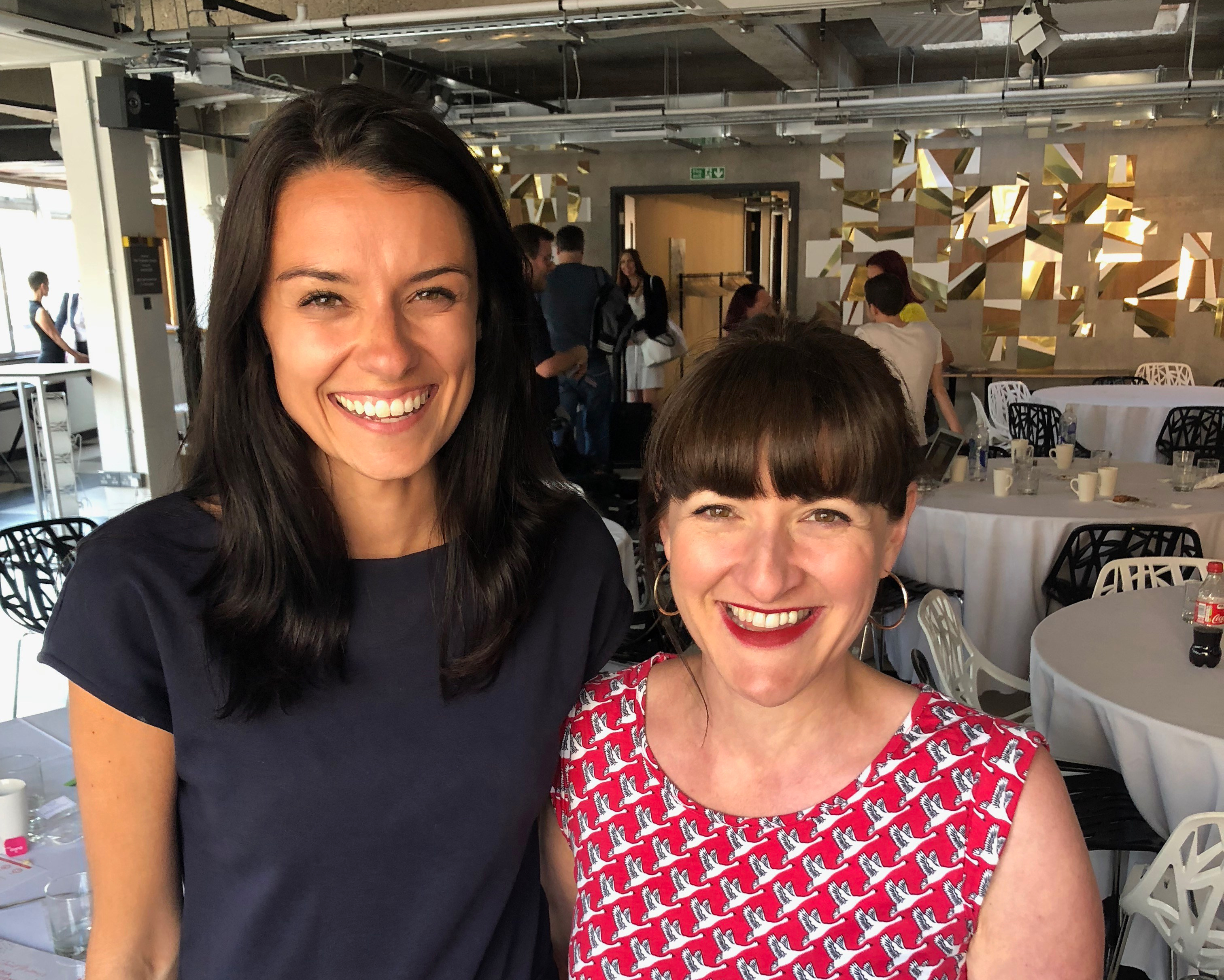 Charlotte Jacklin
Charlotte Jacklin is the inspirational founder of Betty, her own online magazine which aims to be perpetually readable rather than topical. Again, I really wanted to have a reason to connect with her. My sister is a florist and is about to start up a pottery business; that's the only 'in' I can think of…
Andrew and Pete
Kings of content Andrew and Pete didn't disappoint and they were as friendly mingling with everyone as you'd expect. Among other things they shared a simple formula to get someone to say yes to you and challenged us to think big. I'm trying to think of my big domino that will knock all the others over…
Jessica Lorimer
Sorry Jess, I've lumped you in with the online peeps, but we all know that you're actually a talented and inspiring sales coach. I'm a satisfied member of  Jess's paid-membership group so if that's not a resounding endorsement, I don't know what is. Jess said that the presentation she was asked to deliver was outside her usual areas of expertise but it was extremely well received by the predominantly female audience; overcoming fears about being 'seen'. The session concluded with a challenge for all of us to do something we've been putting off due to mindset gremlins. Everyone took it seriously and there were some ballsy breakthroughs happening in the room.
3. Janet Murray herself
Janet set the scene with a PR primer on day 1 but it wasn't until day 2 that we got a gorgeously satisfying dollop of Ms Murray. She really is the most engaging speaker and her examples are always so carefully selected that you can immediately absorb the nutritious nugget of learning within.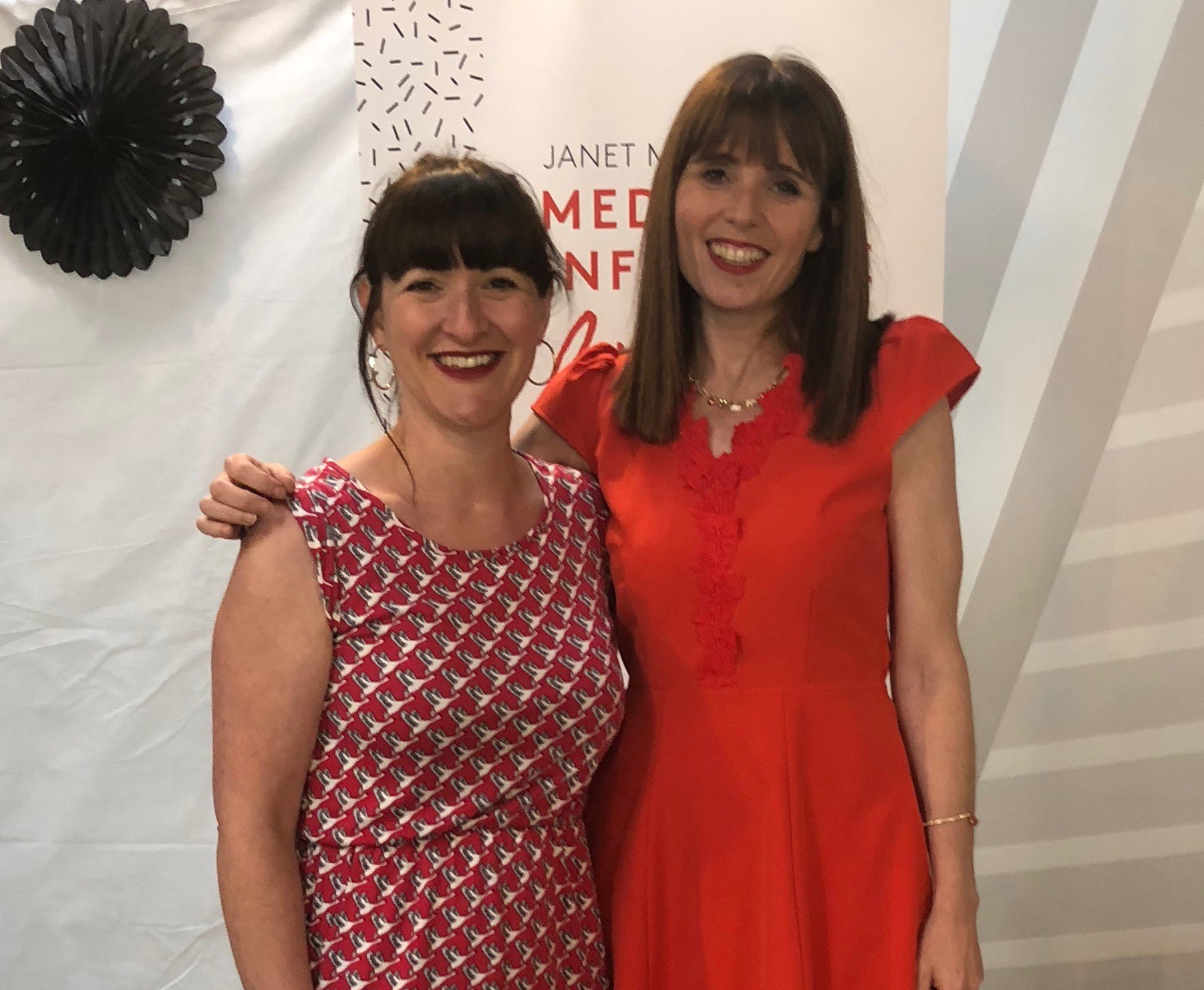 One of her sections ended with a practical pitching workshop, which set the two days off to a 'T'. I also got to meet a few of the Janet Murray team who are LOVELY. Hannah Otto, Lisa Crossland and of course Jo-Anna Francis; the puppet masters. (Don't tell Janet I said that).
The Bad
But it's not all hobnobbing and nibbles, oh no. There's always a downside to everything, and it's my mission to report everything, warts and all.
1. Post- event distraction
I am now obsessed with Twitter and find myself checking several times a day. I've even turned into 'one of those people' who post pictures of what they're eating. I then realised there were follow up chats happening on Instagram and now I feel obliged to get my Insta profile ship shape. It's the opposite at the moment. Inverted tub shaped.
2. Crammed-head syndrome
I don't think I have any room left in my head for any other thoughts. I now have so many ideas, actions and people to follow up with that the Monday following the event held me in stunned silence. Do yourself a favour; if you go to an event like this, plan some time off the following week and work out how you're going to prioritise your learnings. Or employ someone with a cattle prod to jolt you out of your overwhelmed stupor. I know which one I'd prefer.
3. Missed opportunities
I couldn't have made any more effort to squeeze value out of the two days. I went to the evening meal on Thursday and the after party on Friday and even organised an interim gathering to chat about LinkedIn between the end of day 1 and the evening meal. But I still didn't get around to chatting to all the people I wanted to. We had a speed networking session with all the speakers at the end of the first day; I'd have loved to have had one with the other delegates too!
The Ugly
I'm treating this section as a confessional. Please don't judge me. Or if you do, keep it to yourself.
1. Meeting your idols
I was so looking forward to meeting Andrew and Pete that I went a bit silly, put them live on my biz Facebook page (fine) and gave Pete a huge smacker on his cheek for no apparent reason whatsoever (inappropriate). I fear he may be filing a sexual harassment suit as I type and my husband was not impressed when he caught the video on replay. Pete has already snog-shamed me on Instagram. No, I wasn't drunk.
2. Monopolising the speakers
I then proceeded to corner Jess Dante at the bar on Friday night. I was aware that I had her to myself and I kept her there for at least 20 minutes, poor woman. She took it with good grace though. She knew that I had her email address so I think she was trying to handle me with care. (Yes, you get the speakers' email addresses MWA HA HA HAAA!) No, I wasn't drunk.
3. Gurning competition (I told you things turned ugly)
I blame Jen Hamley for this one. I turn my back for one second and the cheeky gits had nicked my phone and started taking selfies. Never one to back away from a challenge, I naturally applied myself to a response. No, I wasn't drunk.
Honourable mention
The goody bags
What a perfect illustration of why getting people to try your products works so well. Included within the handy tote bag was the most delicious brownie I've ever eaten, a month's pack of 'dates' (already put to use thanks, Kate) a kid-friendly bangle that spookily coordinated with my dress, a compact mirror and bag hanger with a chance to win £150 off a designer handbag created by a fellow nincompoop and the best nuts I have ever put in my mouth. No comments on that one please.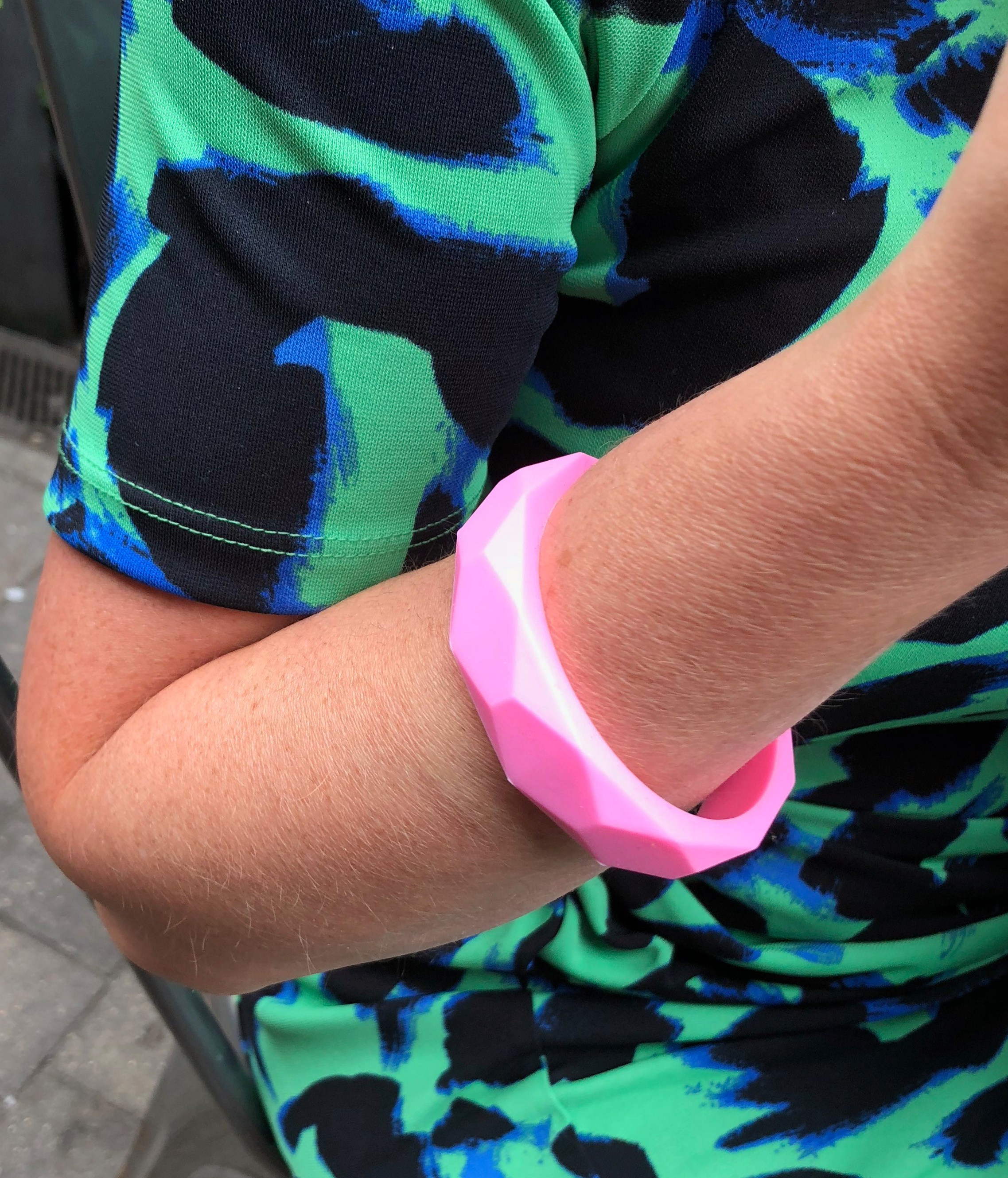 In conclusion, I am glad I went to Media Influence Live 2018 despite the risks I have taken with my reputation. I don't blame Janet for that. Someone mentioned she's putting on another event later this year, Content Live 2018 or something. I've found it difficult to find the details. Come on Janet, stop hiding your light 'neath a bushel and tell us about it!